Please Join Us for Our Annual Open House Celebration • Saturday, February 24, 11am - 5pm • Sunday, February 25, noon - 5pm • Special Pricing • Door Prizes • Come Hungry •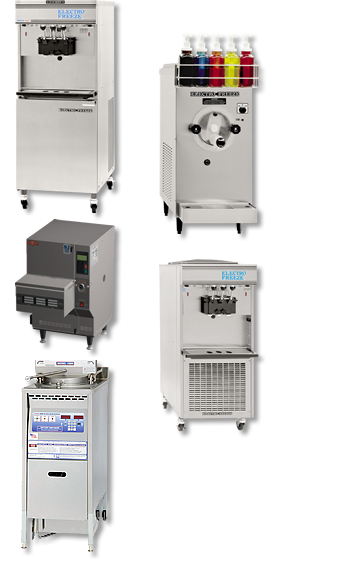 Welcome
Since 1988 - "It's amazing what happens when you put the customer first!"
Advanced Equipment, Inc, serving the foodservice equipment industry since 1988, distributes a complete line of food service and specialty equipment. We are exclusive distributors for Electro Freeze (Frozen Treat Machines), Perfect Fry (Hoodless, Ventless Fryer), 24 Flavors (Ice Cream Flavoring System), Flavor-Crisp (Breading and Marinates).

We also offer a complete line of food service equipment including: Ice Machines, Refrigeration, Ice Cream Cabinets, Broaster Pressure Fryers, Cooking Equipment, Furniture, and much more.

One of our goals is to educate and assist you with the proper selection of equipment that correctly fits your business needs. Our consulting includes equipment specifications, budget proposals, layout and floor plan design, installation and start-up training.

The company started with the goal of offering the finest lines of quality equipment matched with competitive pricing with follow up service and support second to none.